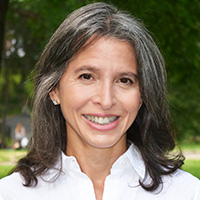 Donna Germain (LCSW, SLP) is a parenting expert and psychotherapist who holds a certificate in parent-infant specialties. She has been working with parents and children for over 25 years. Donna's expertise in infant, toddler and early childhood development has led to frequent invitations to consult with doctors, families and schools on a broad range of developmental and behavioral concerns. This includes, but is not limited to sleep, eating, colic, tantrums, social and emotional difficulties and learning/language disorders.
Donna uses a variety of techniques including coaching, insight oriented therapy, play therapy and developmental guidance in order to effectively collaborate with parents and children in the treatment process.
Donna holds an M.S.W. from New York University and an M.A. in Speech-Language Pathology from Hofstra University. She also holds a certificate of completion from the Institute for the Clinical Study of Infants, Toddlers and Parents.
Donna maintains a private practice in Manhattan's Columbus Circle where she works with parents and their children from birth through adolescence. She lives in New York City with her husband, two children and beloved chocolate Labradoodle.